Frequently asked questions
Browse our FAQs to get the information you need
Welcome guide for new customers
Thank you for signing up! Find everything you need to know about getting started with our service here.
Viasat Internet is residential satellite internet service. We're dedicated to bringing reliable, high-speed connectivity to the hardest to reach people, places, and things — including families in rural or remote areas where cable companies don't go.
This is how Viasat satellite internet works:
You click on your favorite website using your laptop or mobile device. Your request goes to your Viasat modem, then through a short cable to the dish outside your home. 
The dish installed at your home beams your request up to our satellite.
Our satellite sends your website request down to a gateway station connected to our ground network.
The station relays your request to your favorite website.
The website delivers the information you requested back to the station, which sends it up to our satellite to be sent directly to you.
Learn more in this blog post: How it works: the technology behind satellite internet
Viasat Internet is available in all 50 states and covers much of the U.S. population, in remote and rural areas, where other internet companies offer slower service, or no service at all. For more information on where Viasat Internet is available, search plans here.
Viasat Internet is best for people who have trouble getting fast internet because they live in remote or rural areas where cable or fiber companies don't go.  It's great for essential, everyday online activities like shopping, banking, education, and staying in touch with family.
In general, satellite internet is not an ideal solution for VPNs, online video games that require very low latency, and for people who want to replace their cable TV with full-time video streaming. However, Viasat Internet does work for families who want to stream video – you just need to find the right plan for your needs. Contact sales at 1-855-393-3302 to discuss how we can help find the best plan for you.
You should get Viasat Internet because:
It's fast: our minimum download speed of 12 megabits per second (Mbps) is still faster than typical digital subscriber line (DSL) or 4G/Long Term Evolution (LTE) mobile service. In select areas, you can get up to 100+ Mbps speeds.

It's a great value: you get more data for your money than the competition. Plus, there are never any automatic overage fees on our residential service.

It's simple: installation typically takes just 2-3 hours. Once you're connected, managing your account is easy with our My Viasat online portal. You'll learn more about connecting to your online account once you're signed up for service. Sign up here.
Your monthly data usage is measured by the number of bytes transferred, or used, between your network and the Internet.
Common data measurements are Gigabytes (GB), Megabytes (MB), and Kilobytes (KB). 1 GB is roughly one billion bytes, or about one thousand Megabytes (MB).
1 GB = 1,024 MB of data
1 MB = 1,024 KB of data 
1 KB = 1,024 bytes of data
With 1 GB of data, you can visit 3,000 new webpages, send 20,000 text-only emails, listen to 24 hours of music streaming on services like Spotify (at 96 kbps), and more.
Here are some examples of online activity and the typical amount of data used for each:
Data usage by application*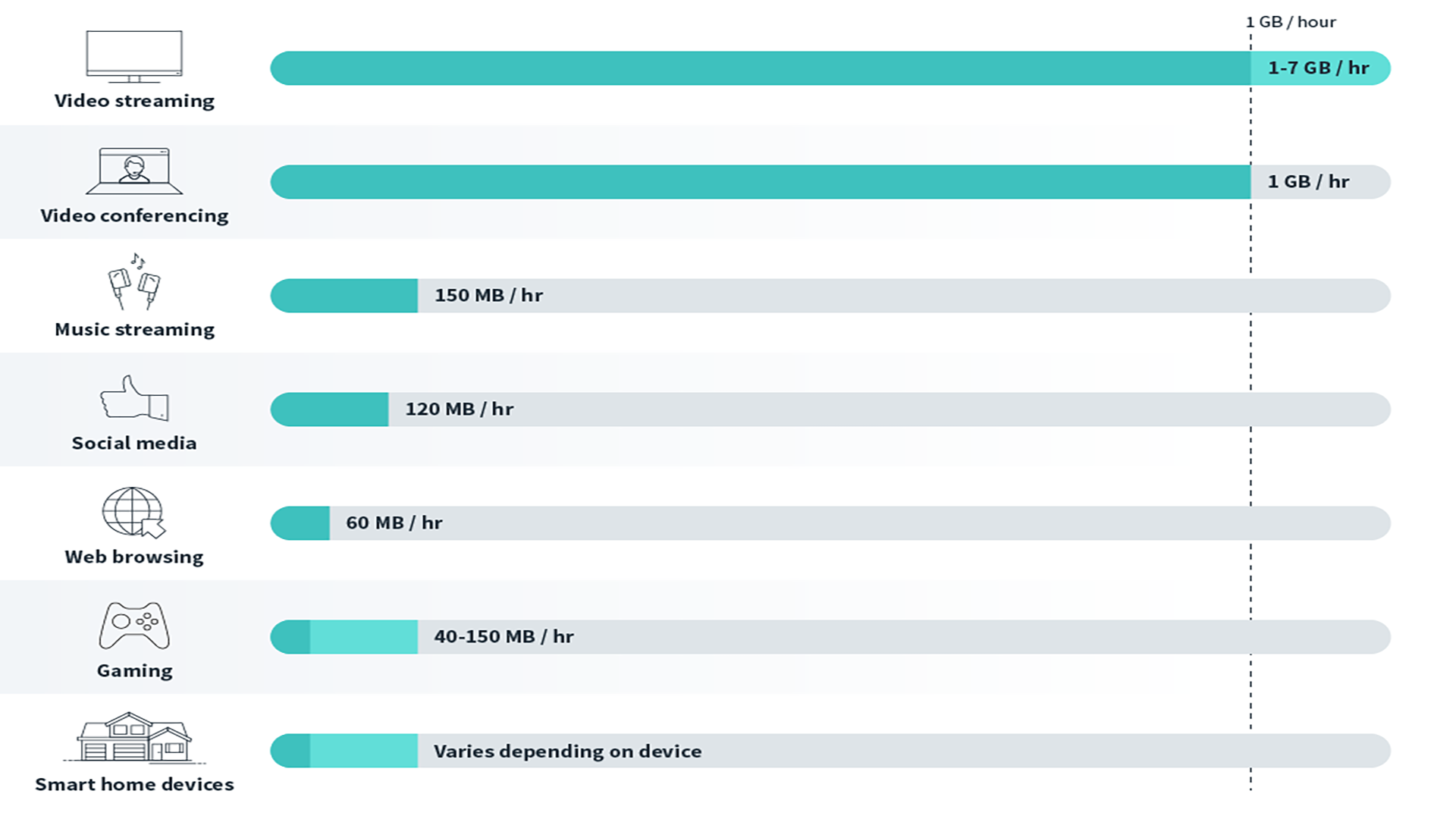 *Figures are estimates only, to show typical use. Individual usage will vary. 


Learn more about streaming and data usage in this blog post.
Viasat unlimited data plans come with a set amount of monthly High-Speed Data and unlimited Standard Data.
The set amount of High-Speed Data means you should experience downloads and uploads up to the advertised speed for your plan.

Unlimited Standard Data kicks in after you've used up your monthly amount of High-Speed Data. Standard Data may be slower than High-Speed Data when the network is congested. Even if the network is congested, you should still be able to do essential, everday activities such as web browsing, audio streaming, social media and email, without worrying about being cut off or having additional charges.
Your monthly High-Speed Data resets on the same day as your monthly billing statement date. At that time, your High-Speed Data usage is reset to zero.
You can always buy more High-Speed Data before or after you've used your monthly High-Speed Data allotment. High-Speed Data can be purchased at any time during the month, but the additional purchase of High-Speed Data will only be available until the start of the new billing cycle. To help manage your data usage, we offer a variety of tools including Viasat Shield and My Viasat via app or on the web.
Latency is the time it takes for data to travel from one point to another. In other words, it's the time – or you could say the delay in time – for data to reach its destination. Low latency is good. High latency is can be frustrating.
There are many factors that contribute to network latency, and latency also varies by technology. In general, latency can be an issue with satellite internet service simply due to the distance the data needs to travel. The reason older versions of satellite internet service were slower has more to do with the older technology rather than with latency itself. 
Viasat incorporates groundbreaking web acceleration technology that dramatically speeds up page-load times, minimizing the effect of latency. So, in addition to the much higher speeds enabled by Viasat's high-capacity satellite, you'll experience a much faster, more responsive web browsing experience, too.
Although satellite latency is greater than cable or DSL latency, it's not enough to make a big difference in most uses of the internet (exceptions can be certain video games and virtual private network (VPN) services). 
You can use a Virtual Private Network (VPN) with Viasat satellite internet service, but it may be slow. VPNs are often used to connect at-home workers to corporate networks, but some VPNs may not work at all. Other Secure Sockets Layer (SSL)-based VPNs may work just fine.
Yes, you can play video games on Viasat Internet. Performance will depend on the game — some are ok, some are poor, and some may not work at all. As a general rule, online multiplayer action games tend to not work well with satellite internet, while turn-based multiplayer or single-player games with fewer online elements may work better. Your physical location, gaming platform, and many other factors can impact game performance. Gamers should also bear in mind that software updates and downloadable content count toward your data allowance and can add up quickly. We recommend you download outside of peak hours.
EasyCare is an extra level of stress-free priority support for your Viasat Internet service available at a low monthly price. Learn more about EasyCare here.
Office Hours is an optional service you can add to select Viasat Internet plans. Office Hours allows you to use popular business applications every day from 8 a.m. to 5 p.m. local time without using your plan's data. Times vary by location. Learn more here.
Business apps that meet the classification of one of the following categories of internet content are included (but not limited to): web browsing and web-based tools (e.g., Google, Microsoft Office 365, Adobe Creative Suite), bulk transfers (e.g., Dropbox, SharePoint), real-time communications (e.g., Zoom, Slack, Microsoft Teams), network storage (e.g., iDrive, SharePoint), social networking (e.g., Facebook, LinkedIn, minus video streaming), VPN, or email. Please speak with a customer service representative to be sure applications qualify, and request to add an application if it is not included, but falls under one of the above-mentioned categories.
Viasat Shield and Shield Premium are internet security services offered to Viasat Internet cutomers. These services defend your home network against common online security threats. You can learn more here.
You can download the Viasat Shield app free from the App Store or Google Play. If you'd like to get access to the premium features, you can upgrade in the app for just $8.99 per month. 
Here's a quick look at the differences between Viasat Shield and Shield Premium. Viasat Shield is included free with most Viasat Internet plans, while Shield Premium has a monthly fee of $8.99. 
| Features | Shield | Shield Premium |
| --- | --- | --- |
| Simple setup with easy-to-use app | ✓ | ✓ |
| View your connected devices and their usage | ✓ | ✓ |
| Protect against online threats | ✓ | ✓ |
| Pause and resume connected devices' internet access |   | ✓ |
| Anti-virus protection powered by Bitdefender |   | ✓ |
| Browsing protection |   | ✓ |
Voice is a feature-packed home phone service built to work alongside your smartphones. Voice is optimized for use over Viasat Internet and Voice calls do not count against your Viasat Internet data allowance. Learn about Viasat Voice here.
Voice supports calling features including voicemail, caller identification (ID), caller ID block, call hold, call forwarding, call waiting, call return and disable call waiting. You can find more details here.
You can set up one phone line per account with Voice.
Yes, you can transfer your non-Viasat phone number to Voice in most areas of the country. To see if your phone number is available for transfer to Voice, call Voice Customer Care at 1-855-463-9333.
Installation and equipment
A Viasat-certified technician will discuss site requirements with you, such as a clear line of site to the southern sky and will help you choose the best location for the dish. Someone over the age of 18 must be present during installation.
The main equipment you need for Viasat Internet is an official Viasat satellite dish, transceiver and bracket assembly, a Viasat internet modem, and the related cables and hardware. This equipment is supplied by Viasat and will need to be returned at the end of your contract.
The Viasat satellite dish is about the same size as a satellite TV dish. Viasat Wi-Fi modems and gateways are about the size of a large book. Our new Viasat Wi-Fi modem and gateway also includes a built-in wireless router.
Learn more on our installation page.
A Viasat dish does not necessarily have to be permanently installed on your home. In many cases, your dish can be installed to a 4-foot pole mount, which is mounted on the ground near the home. Fixed options include a roof mount, wall mount, non-penetrating roof mount, and under-eave mount.
No, Viasat customers cannot install their own satellite dishes. Installation requires a trained technician to make sure that the dish is pointed at the satellite accurately and to verify that all connections are properly made.
Before scheduling an installation, you will need to check your landlord or homeowner's association (HOA) to see if they allow the Viasat satellite dish. The Viasat dish is governed by the FCC Over-the-Air Reception Devices ("OTARD") Rule. The Viasat dish has the same classification as other residential dishes like satellite television dishes. It can be mounted on your home unless your landlord or HOA specifically prohibits dishes of any kind.
The installation process is quick and easy. A certified professional technician will install the equipment and activate the Viasat Internet service at your chosen location. The satellite dish is about 30 in. wide x 28 in. high and can be easily mounted on your roof, on an outside wall of your home, or on a pole in the ground. A cable from the dish connects to the modem, which connects to your computer. Installations typically take 2-3 hours. Learn more about the installation process on our installation page.
Yes, your Viasat Internet service will come with a new Viasat modem or gateway with built-in Wi-Fi. If you want, you can use any modern wireless modem. A wireless modem will allow you to create a home network with your Viasat Internet service, which will let you share the service wirelessly with your computer and other devices such as tablets and smart phones.
Yes, Viasat offers a warranty on equipment. We will replace any defective equipment within the first 90 days of newly established service.
Yes, Viasat Internet will work with your existing Gmail, Yahoo!, or other email account.
You should know we take network security very seriously at Viasat, and we make every effort to ensure our network is secure. Individual customers on our network also have a big role to play in staying safe online, which means using firewalls, antivirus software, and strong passwords that are changed regularly. For example, a good reason for you to use antivirus software is that some viruses can send and receive data without your permission, which may use your data allowance.
Additionally, most Viasat Internet plans come with Viasat Shield, our easy-to-use and hassle-free network protection service that defends against common online security threats. Viasat Shield actively monitors and blocks suspicious activity and guards against cyberattacks, so you can keep your private information private. Learn more here.
You should use an antivirus software that you trust. You'll probably find there are lots of antivirus software options available to you. A general guideline is to purchase your antivirus software instead of relying on a free tool. A purchased product will probably be more robust as well as be updated more frequently than a free version.
Since Viasat is a paperless company, you won't receive a statement in the postal mail. You'll be able to view your monthly statement online when logged into My Viasat web or My Viasat mobile app. To log in, you'll need your account number.
You'll pay your Viasat statement by providing us with a form of payment that we'll automatically charge on the same day each month. We'll send you an email at that time advising you that the payment is processing. We bill a month in advance, so the payment will be for the next 30 days of service. You can choose to pay with a credit/debit card or a bank account (ACH transfer). Once you're set up with automatic payments, you'll always be able to view your statement online using My Viasat for web or the My Viasat mobile app.
No, you won't get a single bundled statement for Viasat and DISH. You will receive one from each service.
Viasat Internet has a 24-month service agreement. If you disconnect before the end of the 24-month service agreement, you may be charged early termination fees. These fees are $15 for every month remaining in the minimum service term. For example, if you canceled service 20 months into the 24-month minimum service term, you would pay $15 a month for the four unfulfilled months, or a total of $60.
Yes, if you disconnect your Viasat Internet service before the end of your 24-month minimum service term, you may be charged an early termination fee of $15 for every month remaining on the contract. For example, if you were to cancel service after 10 months of your 24-month contract, you would pay $15 a month for the remaining 14 months of your agreement (14×15 = an early termination fee of $210). If you have Viasat Voice, you may be subject to additional early termination fees regarding the 6 month offer, if applicable.
Your monthly data measurement reset date is the same as your monthly billing date. On that day, your data usage is reset to 0 and a new measurement period begins. Once you're a customer, you will be able to find your monthly billing date by logging on to My Viasat mobile app from the App Store or Google Play or My Viasat web.