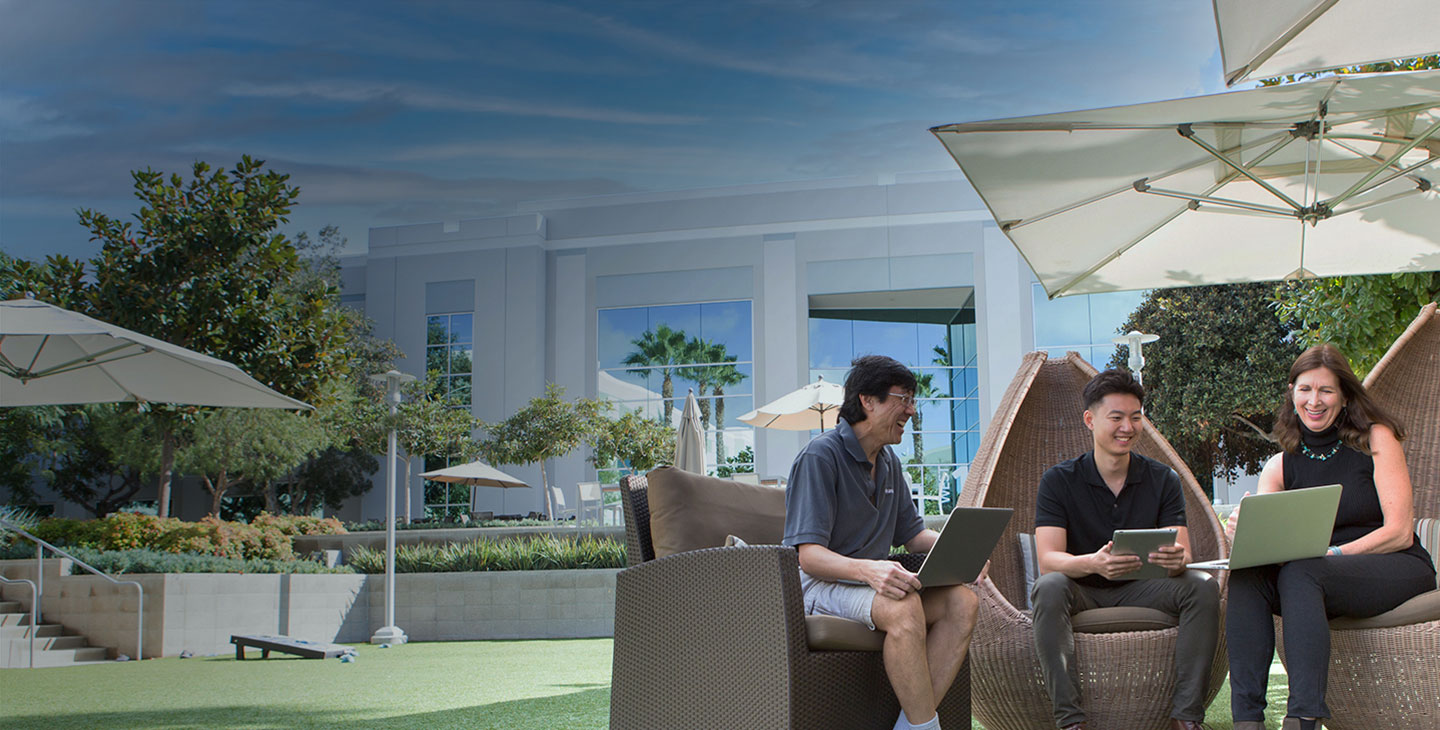 Our people are our most valuable asset
Doing what's right by putting our people first
Ensuring the health and safety of our employees
At Viasat we are incredibly proud of our talented and dedicated global team. Our employees around the world work tirelessly to come up with creative solutions and opportunities that drive real value for our customers. We recognize their commitment to us and honor it by ensuring that their health, safety, and well-being remain our top priorities — especially in these uncertain times.
Even before the pandemic, we put consideration for environmental, health, and safety implications of our operations at the core of everything we did — and we will continue to do so, following our robust Environmental, Health, and Safety (EHS) program.
Creating a great place to work
Being a great place to work starts with fostering a culture and environment where every employee feels welcome, accepted, and valued for who they are. We strive to be a destination workplace where a diverse set of problem solvers, creators, and dreamers can come to grow and do the best work of their lives.
Another  key part of creating a great place to work comes from putting considerable thought into every aspect of our benefits package, which is helped in part by the feedback we receive from our bi-annual employee benefits and wellness survey. This enables us to offer the right benefits that empower our employees' total health — body, mind, and spirit.
Year after year we continue to be extremely proud of the talented team we've built and continue to attract. We appreciate and celebrate both the diverse mix of backgrounds and experiences that each of our employees brings to our team, as well as what unites us - a shared belief that everyone, everywhere should have access to connectivity and that we are the team that will make this belief a reality. 

Melinda Kimbro, Senior Vice President, People & Cuture and Chief People Officer
Fostering diversity and inclusion
As it relates to our workforce, our goal is simple — to attract, engage, and retain the most capable, effective, and productive workforce we can.  We welcome the broad range of experiences, skills, and backgrounds our employees bring to work with them, and we seek an inclusive environment where every employee feels valued and has the opportunity to excel. 
In FY21, we brought our Diversity and Inclusion commitment to life by:
Broadening the set of schools from which we recruit in order to cultivate a more diverse talent pipeline
Conducting a company-wide D&I survey to better understand the employee experience across demographics and enhance inclusion
 Hosting a series of lunchtime talks on issues such as women's leadership, workplace equity, and more
Piloting new educational offerings on reducing unconscious bias and the importance of inclusive leadership
Standardizing  the process for opening and posting new opportunities around the company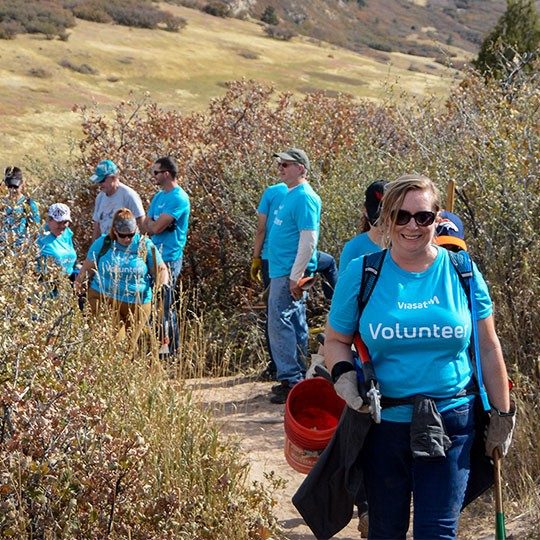 Engaging communities
We encourage employees to explore opportunities to make a difference in the communities where they live, work, and play. Through the Viasat Giving Program, we empower employees to change the world by supporting them and the causes they care about. The program focuses on:  
Engaged employees: We support employees who use their time, talent, and financial resources to create positive impacts in their communities by offering a $2,000 donation and volunteer match, skills-based volunteer opportunities, and group events each year.  
STEAM education: We believe students should have equitable access to science, technology, engineering, art, and math (STEAM) education that enables confidence, skills and knowledge to be prepared for careers of the future in a quickly evolving world.
Military and veteran outreach: We've made a commitment to support veterans, active-duty service members, their spouses, and families to ensure the military community can thrive and achieve their fullest potential.
I love being able to share my volunteer work with my colleagues! It's also amazing to work for a company that supports the volunteer work of their employees.

 

Katie Becker, Viasat IT Technical Writer
Read the entire Viasat FY21 ESG Report
Disclaimer(s):  If you need a disclaimer specific to this page, edit text here.  If you do not need a page level disclaimer, simply delete this.
If you need to use a "Global" disclaimer instead of or in addition to page disclaimer (e.g. for DoD) do this:  In left panel, go to Assets tab, select "Experience Fragments" in the drop-down (where it usually says "images") near the top of the panel.  Then type "disclaimer" in the Search Field.  Drag the appropriate disclaimer onto the page just above the Footer area. REMOVE italics text when done --DELETE DISCLAIMER IF NOT NEEDED