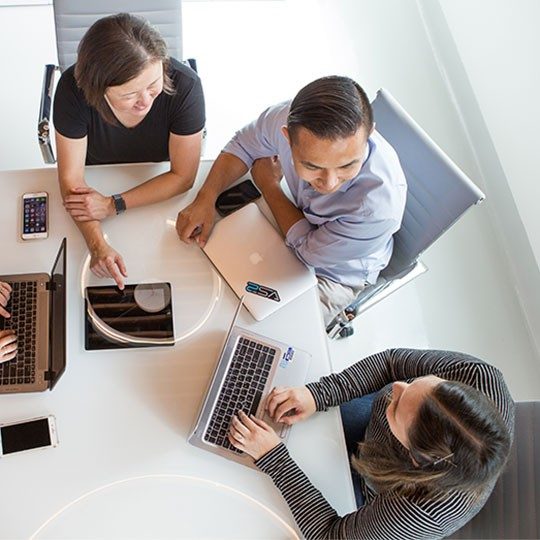 Maintaining strong corporate governance
We promote a culture of uncompromising ethics and integrity in all that we do. Our business is managed under the direction of our board of directors, which has adopted Corporate Governance Guidelines that address items such as the qualifications and responsibilities of our directors and director candidates in addition to general corporate governance policies and standards. Our board also provides informed oversight of our risk management process, administering this oversight function directly through the board as a whole, as well as through its standing committees that address risks inherent in their respective areas of oversight.
Acting with integrity
Our commitment to conducting business with honesty and integrity is captured in our Guide to Business Conduct, which serves as a source of guiding principles and applies to our entire global workforce and board. Because Viasat maintains U.S. government contracts, we're required by law to provide regular ethics training to the employees performing the government-contracted services. To ensure we're going above and beyond this requirement, all employees and consultants working six consecutive months or longer complete the Viasat Workplace Ethics course on an annual basis — whether they are involved with government-contracted projects or not.
As a company we believe that adherance to the highest standards of business integrity in all facets is vital to protecting Viasat's reputation, investor confidence, and customer loyalty.

Shawn Duffy, SVP and Chief Financial Officer
Holding suppliers accountable
As we grow and scale across the world, it's important for us to continue holding our 5,000+ partners to high social and environmental standards. Each year, our core suppliers receive a survey to determine whether suppliers are maintaining an environmental management system (EMS), meeting quality standards, and complying with other social, environmental, and quality requirements. Unacceptable performance may be addressed through corrective action or termination. Our quality department assess potential suppliers in certain commodities for risks and quality using a supplier assessment survey (SAS) tool, site visit, and qualification audit.  
Protecting data privacy
We make it a priority in all areas of our business to respect the privacy of our stakeholders. Our privacy policies detail our approach to protecting the personal data we collect, use, store, and share.
We continually strive to comply with our obligations under applicable laws and regulations and enlist the help of technology to ensure we're on track. In 2020, we launched Solutions Hub, a collaborative intergroup review process that enables us to quickly vet new technology providers for data privacy and security risks. And, to ensure our employees remain vigilant, they are required to complete data privacy and security training during onboarding and then at periodic intervals during their employment.
Read the entire Viasat FY21 ESG Report
Disclaimer(s):  If you need a disclaimer specific to this page, edit text here.  If you do not need a page level disclaimer, simply delete this.
If you need to use a "Global" disclaimer instead of or in addition to page disclaimer (e.g. for DoD) do this:  In left panel, go to Assets tab, select "Experience Fragments" in the drop-down (where it usually says "images") near the top of the panel.  Then type "disclaimer" in the Search Field.  Drag the appropriate disclaimer onto the page just above the Footer area. REMOVE italics text when done --DELETE DISCLAIMER IF NOT NEEDED